Laser Marking System Videojet® 7210/ 7310 Specification Sheet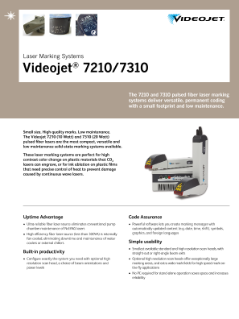 The 7210 and 7310 pulsed fiber laser marking systems deliver versatile, permanent coding with a small footprint and low maintenance.
Small size. High quality marks. Low maintenance. The Videojet 7210 (10 Watt) and 7310 (20 Watt) pulsed fiber lasers are the most compact, versatile and low maintenance solid-state marking systems available.
These laser marking systems are perfect for high contrast color change on plastic materials that CO2 lasers can engrave, or for ink ablation on plastic films that need precise control of heat to prevent damage caused by continuous wave lasers.
Back to Hub