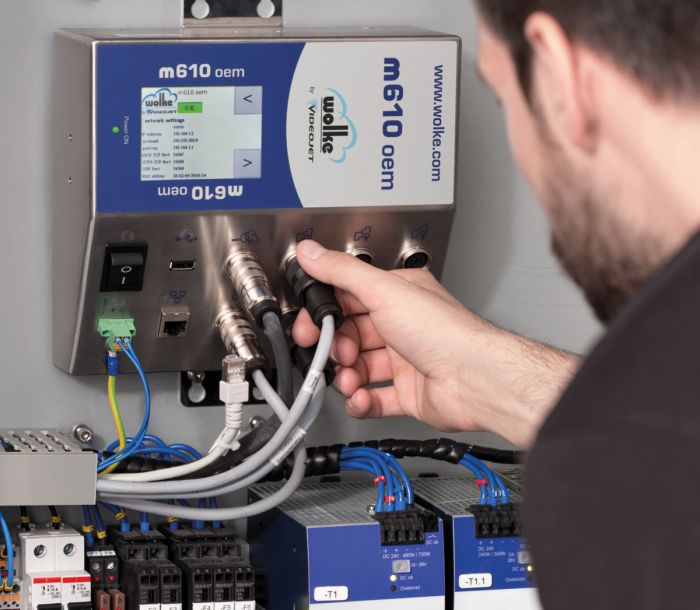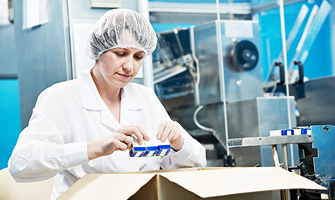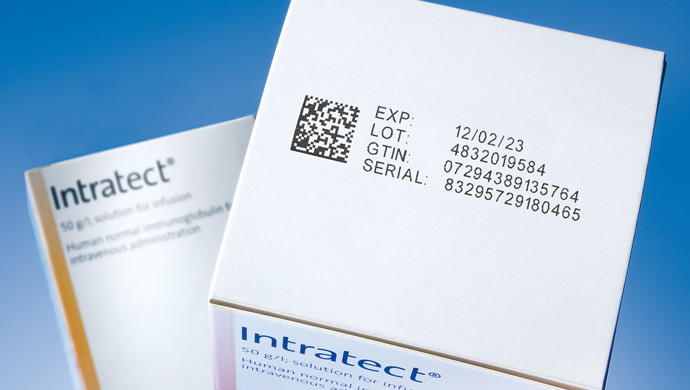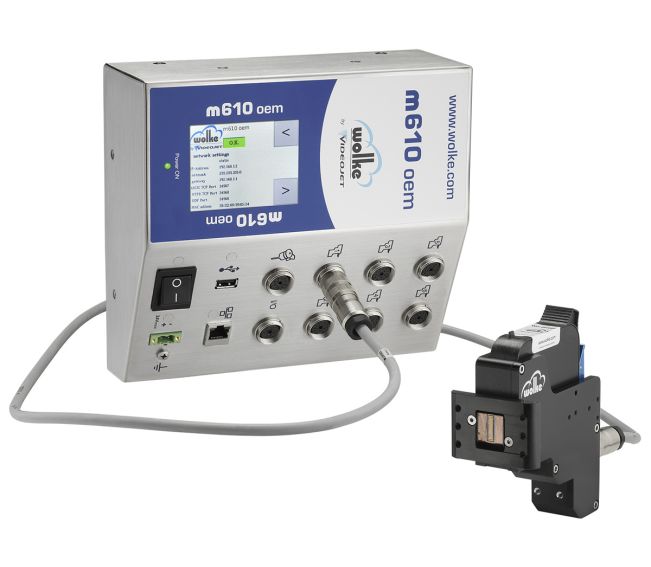 Wolke m610 OEM Thermal Inkjet Printer
Thermal Inkjet Printer
Thermal InkJet Marking System & Barcode label printer
The Wolke m610 touch thermal inkjet (TIJ) printers are high resolution printers that use HP® technology. These versatile printers feature a large CLARiTY™ touchscreen interface for easy operation, as well as provide a common look and feel to those familiar with Videojet's CLARiTY-based printers. From basic alphanumeric codes to complex bar codes and graphics, the m610 touch have the capability to print a wide range of codes on fast production lines.
Specs
| | |
| --- | --- |
| Specification | Value |
| Maximum Print Resolution | 600 x 600 dpi |
| Print Speed(1) | Up to 300 m/min (984 ft/min) |
| Bar Codes | Multiple linear and 2D bar codes including DataMatrix, QR, GS1, PPN, HIBC |
| Single Printhead Print Height | 12.7mm (0.5in) |
| Maximum Number of Printheads | Connect up to 6 |
| User Interface | 3.5" resistive display; auto-rotates in any orientation |
| Data Interfaces | 24V DC I/O connector, Ethernet, TCP/IP, FTP, USB-A |
| Environmental Protection | IP20 (controller) |
(1)Line speed dependant on selected print resolution
---
Benefits
Powerful data handling for serialization requirements
Secure ultra-fast processing of 20 unique records per second, including 2D DataMatrix and GS1 128 bar codes
Powerful processing hardware with formidable data buffer for serialized record management
Validated Wolke remote commands and data handling commands
Unicode TrueType® fonts for global projects
Asynchronous communications practices alleviate network traffic
Ultimate flexibility when integration matters
Up to 60% smaller than comparable TIJ controllers with 24V DC power for easy cabinet installation
18 different mounting options in various orientations, including flush-mount or DIN rail
Connect up to six printheads and run any four simultaneously for switching between print locations without mechanical adjustment
Printer operations and settings managed exclusively via the host packaging line HMI
Advanced innovation drives productivity
Perpetuo Print Mode™ extends production runs or allows ink replenishment without stopping the line
Dynamic Print Intensity™ allows different DPI resolutions to be set for bar codes and text within one printhead, optimizing ink consumption
Specialized portfolio of Wolke TIJ inks optimize critical applications
---
Applications
---
Contact us
Let Us Find the Right Solution for Your Business
A Coding Expert will contact you within 1 business day
Need help? We're here for you.
New Equipment Sales & Quotes:

+91 72900-62569
Service & Tech Support:

1800-103-4812
E-mail:

marketing.india@videojet.com
---
Quick Links:
Global Offices
Sales and Distributor Search