Fiber lasers are the lasers of choice when it comes to applying a wide variety of materials (plastics, metals) with high-quality marks (from marking to tempering to engraving). Fiber laser marking systems convince with high marking speeds, high-quality marking results and high cost-efficiency. The compact fiber laser markers can be optimally integrated into lines, machines and systems and can be automated.
Fiber laser marker machine are designed to meet the needs of manufacturers who code onto robust, high-density packaging materials such as metals and plastics. Industries including beverage, extrusion and pharmaceutical who run demanding production schedules with increasing throughput expectations need a laser that can keep pace and provide a level of contrast that exceeds expectations. Compared to traditional CO2 laser sources, fiber laser sources can achieve better mark contrast at faster speeds.
Major Benefits of any Laser Marking Machine:
Permanent Marking. Your Product Data is completely secure. No tapering. Counterfeit protection feasibility.
Zero consumables. Yes, you read it right! Laser Marking machines don't use any kind of inks or other consumables.
Zero Contact marking. Which means maintenance and repair is very rare! High Uptime
Low cost. You may think laser machine will cost higher then other technologies but if you compare the life of the printer and post purchase cost i.e., zero consumable, maintenance, repair, down time, it will be much cheaper in long run.
Now let's see the benefits of Videojet's Laser Marking Machine:
Videojet Laser printers range from 20 W to 100 W power output.
High Output! Highest Marketing Speed: upto 900 M/Min or 2000 Character/Sec
Customized Configuration and client-specific solutions
Widest marking area as big as 500 mmx230 mm
Smallest size and multiple orientation for easy integration
Remote Connectivity
Marking during motion (mark on the fly) and stationary marking
What can you mark with our Lasers?
Alphanumeric, Logo, 100% scannable barcodes like 1D/2D/QR with Grade certification Anything that is required to track and trace solution or establish parent child relationship.
Which substrate you can mark on?
All Metals and many polymers like PC, ABS, Nylon, PP, HDPE, LDPE etc. We can help you achieve high contrast marks at up to 600m/min:
Aluminium cans
Cable and wire
White polypropylene extrusion
Blister pack materials
Aseptic packaging
Still have questions? Connect with us and our sales executive will help you to with the right solution.
Videojet Technologies has 4 major models of Fiber Laser marking machines: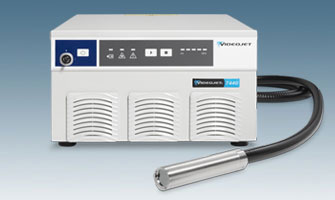 20-Watt and 30-Watt fiber lasers are the first to feature the Lightfoot™ marking head, making them easy to integrate, operate and service.
The Lightfoot™ marking head is one of a kind, smallest in the industry both in size and weight, and IP69 rated for use in washdown and harsh environments.
Designed to deliver high-quality, permanent codes for a wide range of marking applications, are an ideal solution for parts-marking, food, beverage, consumer packaged goods, pharmaceutical and cosmetics manufacturers who have space limitations, are looking for simple integrations, or do frequent rapid changeovers.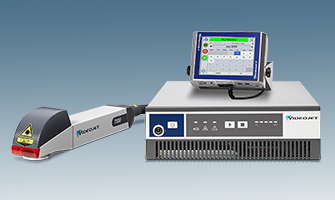 7230 10-Watt and 7330 20-Watt fiber lasers for marking permanent quality codes on robust, high-density materials
Light, compact and adaptable laser marking solutions offering high-speed marking, with complex data, easy operability and industry-leading integration capabilities
Designed for demanding production schedules in the Parts-Marking, Food, Beverage, Consumer Packaged Goods (CPG) and Pharmaceutical industries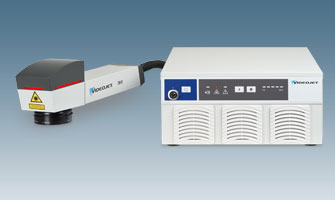 100-Watt fiber laser marking high contrast at high speed
Quality marking on robust plastic and metal materials
Maximum single line speed: 600m/min (1968 ft/min)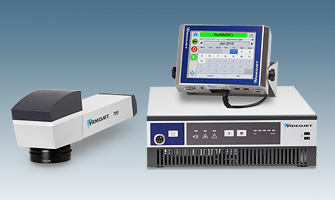 50-Watt fiber laser marks high contrast at high speed
Quality marking on robust plastic and metal materials
Maximum single line speed: 440m/min (1440 ft/min)
Contact Us
Sales and Marketing contact:
9:30 AM – 6:30 PM (Monday – Friday)
Service and Technical support
Laser Marking Systems Resources
Additional Resources