Videojet 8610 Specification Sheet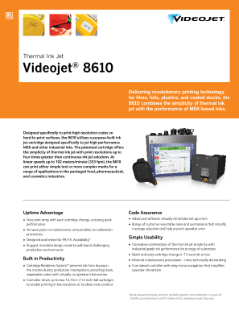 Delivering revolutionary printing technology for films, foils, plastics, and coated stocks, the 8610 combines the simplicity of thermal ink jet with the performance of MEK-based inks.
Designed specifically to print high resolution codes on hard-to-print surfaces, the 8610 utilizes a purpose-built ink jet cartridge designed specifically to jet high performance MEK and other industrial inks. The patented cartridge offers the simplicity of thermal ink jet with print resolutions up to four times greater than continuous ink jet solutions. At linear speeds up to 102 meters/minute (333 fpm), the 8610 can print either simple text or more complex marks for a range of applications in the packaged food, pharmaceutical, and cosmetics industries.
Back to Hub